Car Service & Repairs
Nandi Autocare is a member of the Bosch Car Service network, the largest network of independent workshops in Australia and the world.
As a Licensed Vehicle Tester and a member of the Bosch network, we are committed to the highest possible standards of vehicle servicing to ensure the safety of your family and to prolong the life of your car so that when travelling in your car, your trip is enjoyable and mechanically risk free.

Our specialised equipment and technicians are kept up to date.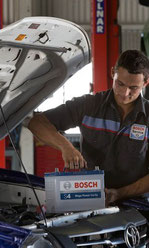 Car Service in Dandenong, Braeside, Dingley Village, Keysborough
Nandi Autocare can also take care of your cars' electrical needs, as we are equipped with the latest electrical diagnostic equipment and experienced technicians. Our electrical services include:
All fault diagnostics on European & Japanese models

All computer diagnostics and repair

Air-conditioning

Car Alarms

Dual Battery systems 

and much more...


For more information on our electrical services, view our Auto Electrics page. 
Car Service in Dandenong, Braeside, Dingley Village, Keysborough
There is no place like home and when it comes to car service and car repairs, Nandi Autocare tries to make you feel right at home! Our clients located in Melbourne suburbs, including those in Dandenong, Keysborough, Braeside and Dingley Village are welcomed to book their cars for a complete car service and car repairs regime.
Our car service for our clients in Braeside, Keysborough, Dingley Village and Dandenong is aimed at:
Isolating and fixing problem causing areas

Identifying potentially problematic areas

Minimise breakdowns and keep their cars in a safe driving condition.
Nandi Autocare – Keeping Your Car Pampered So It Keeps Serving You Well! Spending on car service and car repairs is an investment and we make sure our Dandenong, Braeside, Keysborough and Dingley Village clients get the best out of our services. We give good value in return for your money so you keep coming back to us.
So feel free to book an appointment with Nandi Autocare – your leading car services and car repairs provider in Melbourne!
What we do
Log book servicing


Shocks & suspension

Exhaust repairs

Batteries

ABS servicing & repairs

Brake and clutch servicing & repairs

EFI servicing & repairs

Transmission servicing & repairs

Airbags

LICENSED VEHICLE TESTER (Roadworthy certificates)
Call Us: